Founder, Horses & Heritage
Ph.D. Candidate, Brandenburg University of Technology Cottbus-Senftenberg (GER)
M.A., World Heritage Studies
M.Sc., Building and Conservation Dipl. Ing. Interior Architecture
What got you in to history? horse history?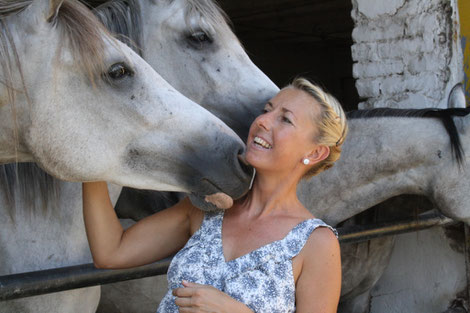 Horses and history are a combination of my two great passions. As child I visited Marbach State Stud, one of the oldest horse breeding institutions in Europe, for the first time. I think this is the place where the whole horse fever broke out, which since then is a decisive part of my life. Marbach became the place of all my childhood dreams and I visited as often as possible. During my school time I spent most of the holidays at the federal riding school of the stud but this wasn't enough, I needed to have own horses. I did for 25 years, participated in a number of fantastic long distance riding tours in North Africa and Europe, was working as riding guide in Iceland, groomed top sport horses up to championship level in Europe and North America and am involved in the organization of one of the most prestigious traditional horse shows of Germany since many years.
My family supported my horse passion, but when I came up with the idea to become a professional rider my parents were not that enthusiastic. Thus, I studied subjects related to other fields I'm interested in: historic buildings, architectural conservation and cultural landscapes. I had the chance to spend a semester abroad at the University of Virginia and another one at Deakin University in Melbourne, participated in heritage workshops at Kakadu National Park and the World Heritage Centre in Paris where I also did an internship at the headquarters of ICOMOS (International Council on Monuments and Sites). During this time I learned about different concepts of heritage, about tangible, intangible and living aspects which often appear in combination.
Still being very much horse oriented it was unavoidable to apply what I learned to equestrian heritage. I finished my Interior Architecture studies with a thesis about the Brandenburg State Stud Neustadt (Dosse) and after my two Master degrees I moved to Marbach, where I set-up a network of historic state studs. For seven years I acted as manager of the European State Studs Association with the objective to preserve and to promote European Stud Culture. This brought me in touch with the leading historic breeding institutions of Europe, including the former Imperial Stud Kladrub, today the Czech National Stud, which became a focal point of my activities.
In 2016 I founded "Horses & Heritage" in order to raise awareness for equestrian heritage, which seems to be an often overlooked but absolutely essential part of human history.
Who is your favorite historical horse?
If I can name only one of all those wonderful horses who have accompanied humans in history, this is Bairactar, the favourite riding horse of William I. King of Wuerttemberg and the founding sire of the famous Weil-Marbach Arabians.
What are you working on now?
My current research project deals with the architectural heritage and the cultural landscape of Marbach State Stud in Germany. With more than 500 years of history Marbach is one of the oldest horse breeding institutions of Europe. The first written record dates back to 1514. The stud was established by the dukes of Wurttemberg as their court stud to provide a stimulus for the improvement of horse breeding in the dukedom. It is located in the south-west of Germany and is part of the UNESCO biosphere reserve for the Swabian Alps. Marbach includes 960 hectares of land, three stud yards and four satellite farms. Two of them have developed from secularized monasteries.
Generations of horses in their interaction with mankind have shaped the scenery and thereby formed a unique cultural landscape. The spacious stud premises, from administration and residential buildings, stables, barns, historic riding arenas to simple horses for herders at the remote summer stables, are registered as monuments as well as alleys, groups of trees, wells, bridges and open spaces. The architectural heritage is diverse. The origins of some buildings date back to the 16th century, but structures of the 19th century predominate.
During the second half of the 20th century extensive construction works changed the face of Marbach and at the beginning of the 21st century a master plan was developed in order to improve the infrastructure for the growing tasks in the fields of education, events and tourism. Different new structures and building alterations have already been realized, others are still in preparation.
Every development implies an intervention in the mature cultural landscape. Careful planning based on knowledge and understanding is essential to find adequate solutions. So far scientific work in connection with the stud has focused mainly on aspects of horse breeding and agriculture while the history of the stud premises lies largely in the dark. The objective of the dissertation project is to shed light on the historic connections within the Marbach cultural landscape and to explain its significance to lead to a better understanding for the future handling of this unique heritage. The Dissertation project is supervised by Prof. Dr. phil. Leo Schmidt at the Cultural Heritage Centre of the Brandenburg University of Technology Cottbus-Senftenberg.
Anything else you'd like to add?
Horses fascinate and inspire us through their beauty, their elegance and their character. They fire our imagination, symbolize freedom, strength and power. They are ambassadors, build bridges and connect humans across borders and generations.
Until a few decades ago the hoof-beat of the horse determined the rhythms of agriculture, transport, courtly representation, war and peaceful existence. Today, most people are not aware of the distinguished role horses used to play and accordingly they are not familiar with the cultural significance of the different breeds, their breeding places and the numerous evidences of the human-horse-relationship from prehistoric times onwards.
Horses & Heritage is addressed equally to stakeholders of the equine and the culture sectors, horse lovers and heritage enthusiasts. I'm tying to fill the gap between theoretical research and real life offering presentations, publications, advice in heritage management and interpretation. My "Horses & Heritage" tours to the most precious historic breeding institutions, riding schools, equestrian collections and other places of interest are increasingly popular.
You find further information and my contact data at http://www.horses-and-heritage.net. If you share my passions, I'd love to hear from you!